...coming to her senses... through a mandala of connections...
The Detroit metro area was home to us for over 25 years (my husband is an auto­mo­tive engi­neer). Despite the fact that we were extremely involved in the commu­nity and loved our house (a 1927 Tudor Revival), my heart and soul were just never invested there. Some people say a "place is what you make it," but that's true only to a certain extent. I won't get into just how hard I tried to make it a better place, you can find some of the story at Saints Preserved, if you're interested.

Finally, our 3 sons were out of the nest, the auto­mo­tive industry tanked, and I could run my online busi­ness from anywhere. So we looked around and discov­ered Berrien County, MI. (It's in the far south­west corner, on Lake Michigan, within commuting distance to Chicago, and most Detroiters have no idea it exists.) We purchased a small passive-solar house on a wooded ravine, surrounded by orchards, vine­yards and straw­berry fields. That was 10 years ago and we have watched the expan­sion of wineries, brew­eries, agro-touring... (My husband, Randal, is a New Zealander, which means that he has a lot globe-trot­ting Kiwi cousins who have visited us. Here are a couple of comments: "This is truly a place of grace."..."I think this is one of the few places I could happily live in other than New Zealand."...)
In 2008, we purchased a large house in historic Buchanan MI, just 20 minutes to the south. I moved my studio to the ground floor there and we used the upper stories for rental to tourists and visitors/family. (We were one of the few places to stay and I have met many amazing people who have been our guests). More about that later.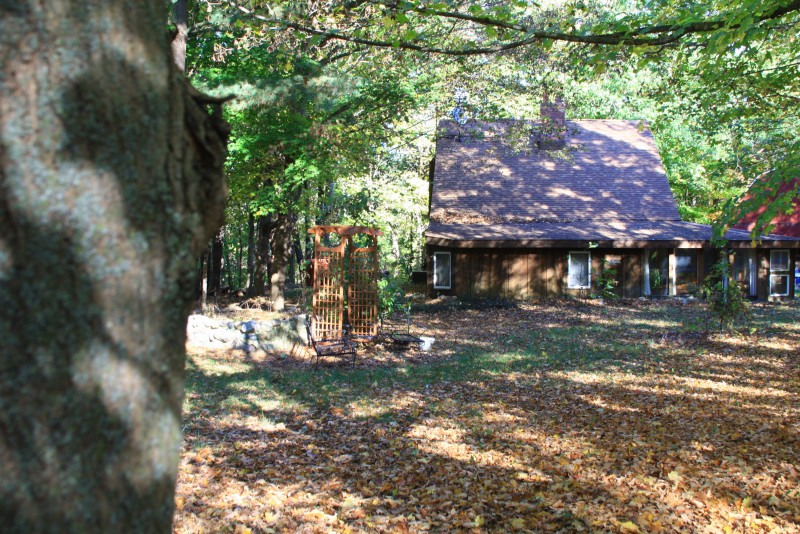 Update September 2016: We sold our "Little House in the Woods" and have moved into the Buchanan House (pictured in various headers here). It took awhile to find the right buyers for the house (or for them to find us), but they are perfect and I know they'll take great care of it. Nan Lundeen is an award-winning poet, writer and much more. Her husband, Ron is a jour­nalist and photographer.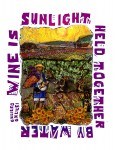 Boutique wineries were just springing up when we moved here. I was inspired to make my first new Anachron since the move: Vincent of Saragossa, patron saint of wine makers.
So I was amazed to find on my first visit to Domaine Berrien Cellars, St. Vincent wine. When I told Wally Mauer, one of the owners, that I was working on St. Vincent, he asked, "The St. Vincent?" Turned out we both thought virtu­ally nobody but us knew about him. Today Wally and Katie are carrying on her parents' dream of living and working in a place of grace.

My new studio afforded the space to do some exper­i­menting, and I started to use glass from re-purposed wine bottles to craft some art-to-wear pieces.
By this time we were hosting a lot of out-of-town guests and taking them on wine tours. One of the wine-tasting hosts, Aggie, at the Round Barn, was always so gracious that I gave her a little gift of a brooch.

A few years passed. Aggie had moved on. I was asked to have a display at the Christmas craft fair at Fernwood. Reluctantly, I did. (I'm a little beyond the art-fair stage.) And who should be there but Aggie!? [Wo]manning the booth of the Michiana Herb Society. (They main­tain the Fernwood herb garden around the dove­cote, with funds raised by their annual tea.) She remem­bered me, and said I might like to come to a meeting where there would be a presen­ta­tion on Hildegard Von Bingen.
I did attend. I loved the group. I became a member. (But I am just so stretched for time that I can't partic­i­pate as much as I would like to.)



Fernwood, a lovely botan­ical garden and nature center "in the middle of nowhere" was one of the things that attracted us to this area. (I also was able to donate, i.e., "unload," over 75 accu­mu­lated gardening books to their library — a great relief to someone who must down­size, but has sepa­ra­tion anxiety from her books.)
The presen­ta­tion was given by Dr. Lillian Lewis (more about her to come) and Carole Svebakken (who have since become patrons and friends.)
. . .and that led to. . .
. . .the creation of my Hildegard Collection, launched at Fernwood in December 2011.
This video shows a bit of the exhibit, made espe­cially fun by the singers doing gardening paro­dies written by Mike Nowak.
And yet another ring in the circle: Jan Ferris (who gave the intro­duc­tion) was not only program director at Fernwood, but she is also my "Egg Lady" who provides us with beau­tiful eggs, in various sizes and colors, from her husband's free-range hens.
Fernwood also carries select pieces from my collec­tions in the gift shop.