Hildegard cele­brated Sophia as a cosmic figure in both her writing and her art.
Sophia, in Catholic theology, is the Wisdom of God, and is thus eternal.
Meister des Hildegardis-Codex — The Yorck Project: 10.000 Meisterwerke der Malerei.
Sophia!
You of the whirling wings,
circling, encom­passing energy from God
One wing sweeps the earth
and the third flies all around us.
Praise to Sophia
Let all earth praise her.
Come!

Above: An orig­inal, hand-painted card by Sue Cash
(Sue is a friend of Donna Corso who sent us that lovely card,
as well as the
Hymn for Divine Wisdom)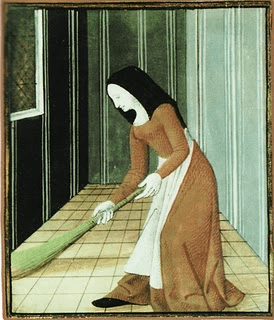 Working on this page.
Please come back soon!